5 Best Google Certification Courses in 2022 (Updated)
Do you know about Google certification courses? Well, having a certificate authorize and awarded by one of the biggest companies on this planet like Google can be immensely helpful for your career.
A certification for Google can improve your resume score and strengthen your profile thus increasing the likeliness of you getting a job.
Being one of the biggest companies in the world any product or service including courses becomes astoundingly valuable. More importantly, being accessed by over 50% of the population in the world, the certifications from Google can be recognized as a symbol of authenticity for someone who claims to have learned skills through the courses offered by Google.
Google offers a variety of courses through a number of channels. The two primary channels where you can find courses offered by Google are:
The 2 mentioned resources serve a very different purpose while their primary objective is to offer certification courses by Google. While Grow with Google is more focused on helping the audience in multiple fields such as Career Growth, Business Development, and more, the Google digital unlocked is purely focused to help one through learning digital marketing.
The courses are wildly popular and are very much recognized by the companies. Being a Google certified professional is itself recognition in the present scenario where Google has a separate reputation.
Google is one of the most valuable companies on the planet, and their initiative to educate people around some of the very important skills is highly appreciated. Also, coming from Google, it is generally accepted that the quality of courses shall be good.
By Good, I mean to say that Google is actually focused on training students and professionals about certain skills and therefore the courses developed are very comprehensive, well explained and detailed.
Upon completion of each course, the students will have to attend a test and qualify in order to be able to get the certification. The certification can later be used to improve your profile credibility. People usually use it on their LinkedIn profiles and Resume as well.
The courses mostly consist of video content however, some might as well have study materials. The videos are very explanatory and created very smartly using graphics, VFX, and more to make the concept very understandable.
These Google certification courses do not have any set eligibility criteria that mean anyone and everyone can try and learn from these courses. The courses have no set restrictions about the duration you take to complete the course.
This means students and professionals, or anyone interested in learning the skills through Google certification courses can learn it at their own pace. These are some of the reasons why there is a very evident craze for the Google certification courses and why they are valued so much.
So, in this article, we'll learn about the different types of Google certification course and their details. This might as well be very helpful for students, professionals, or just anyone wanting to learn any kind of skill.
Google Certification Courses: Details, Career Scope, Fees, and More
Let's first explore the Google certification courses on "Grow with Google".  The certification courses by Google are distributed in 5 segments, each referring to a particular skill or industry. The 5 professional fields in which you can earn certification are:
IT Support
Data Analytics
Project Management
UX Design
Android Development
These are the 5 professional credentials that you can earn if you opt to go for the certification courses by Google through "Grow with Google".  Let's start with exploring each one of these skills in terms of the requirements, career, and more.
IT (Information Technology) is one of the fastest-growing industries in the world. As the name suggests, the basic principles on which the IT industry operates are processing information and coming out with necessary conclusions to help businesses.
The most usual operations in the IT sector include software management, software development, BPO (Business Process Outsourcing), and more. It is one of the very essential business development services at this point in time and it is expected to grow even rapidly in the near future.
Having a career in the IT industry can be very fruitful. Since it is a growing field, the companies usually pay handsome salaries and having skills. Some jobs in the IT industry require a level of coding while others require good communication, marketing, business development, and skills of that nature.
This Google certification course comes in two arrangements for beginners and amateurs or professionals. The courses are made available in collaboration with Coursera, one of the very famous platforms offering courses.
The course doesn't require you to have any relevant experience for pursuing it. The training provided is completely online through mode and is 100% remote. One of the key highlights of this course is that over 80% of the students reported career growth within 6 months of time.
The IT industry is booming rapidly and the career opportunities are quite good. In fact, an entry-level professional in IT-Support gets an annual salary of $50,800 with more than 300,000 job openings as mentioned clearly on the "Grow with Google" site.
Like it has already been mentioned that the course comes in two arrangements, which is for beginners and for professionals or amateurs. Well, the syllabus, content, topics, concepts, and exercises are all very different.
The key things beginners will learn include:
Troubleshooting and Customer Care
Networking
Operating Systems
System Administration
Security
And the certificate awarded post completion of the course is the "IT-Support Certificate". This Google certification course guides the students through all the necessary skills for an entry-level IT-Support job.
Some of the skills involved in the professional-level course include:
Python Programming
IT automation
Troubleshooting and debugging
Testing in Python
How to set up your developer environment
The certification offered post completion of the course is the "IT Automation with Python" certification.  This course is very much suitable for those who are already familiar with the IT industry and the operations involved. The course will help such candidates to strengthen their core knowledge and build a career in the IT sector.
These were some of the very important skills that you need to know about the IT-Support certification courses by Google.
Data science and data analytics is often addressed at the coolest job of the era. Yes, it is often referred to as one of the smartest professions out there. It's not been very long ever since data science gained started gaining the importance it deserved, and since then it has never lost its momentum.
In fact, data science is one of the fastest-growing industries of all time. The basic job of a data science professional or a data analyst is to help companies make informed business decisions backed with proper analysis through the data that is collected and stored.
Just like the other courses mentioned, these courses don't require any prior industry experience. Complete freshers with little or no knowledge about data science may take the course and learn data analytics.
The training is provided entirely through online mode and it is 100% remote. It is a self-paced course that means the students can complete the course at their own pace learning each and every module properly.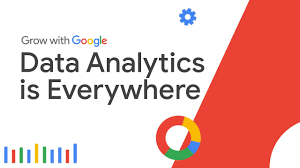 The course has been framed in such a way that, on average the amount of time one needs to invest studying per week is less than 10 hours. As it has been already mentioned that data science and data analytics are one of the fastest emerging industries, many organizations now have the need for data science professionals.
Do you want to become a professional data scientist? Read about How to Become a Data Scientist in India here
There are many job roles for data science professionals and data analytics professionals such as:
Junior Data Analyst
Associate Data Analyst
Junior Data Scientist
Finance Analyst
Operation Analyst
Data Technician
Business Performance Analyst
Marketing Analyst
Business Intelligence Analyst
Healthcare Analyst
These were some of the job roles that one might want to achieve as a data analyst. The course is made available to the students through an ed-tech platform called Coursera. Like it has been mentioned, that the prime objective of the course is to help students learn about the very details of data science.
Improving the foundational knowledge about data science and data analytics will help the students get a step closer to find a job relevant to the skills. Through this course, the students will learn:
Data types and structures
Using data to solve problems
How to analyze data
Data storytelling and visualizations
Using R programming to supercharge your analysis
It is basically an entry-level course that mainly focuses on helping the students in learning the core fundamentals of the topic. It includes some of the very basic concepts that will guide the students into understanding what data science really means and where it is used.
Here's what the curriculum contains:
Foundations: Data, Data, Everywhere
Ask Questions to Make Data-Driven Decisions
Prepare Data for Exploration
Process Data from Dirty to Clean
Analyze Data to Answer Questions
Share Data through the Art of Visualization
Data Analysis with R programming
Data Analytics Capstone Project: Complete a Case Study
The least this course can do for you is help you learn enough to kick start your career in the data science industry. There are several employers and companies renowned on a global level who consistently recruit data scientists. The students have the opportunity to use this knowledge for starting a career as a data analyst.
Project management is one of the very important skills at this point in time. Organizations have a lot of projects going on at the same time, and it is quite difficult to manage all the projects simultaneously. Each project has its own set of activities going on and along with that, the challenges for each project are also different.
Therefore, it kind of becomes important for organizations to have project managers look after the projects. A project involves a team with each professional having a task assigned to do. The collective effort of each individual professional in the team leads to a successful project.
The job of a project manager is to ensure that the tasks and goals of the projects are achieved efficiently and within the deadlines. So, from the mentioned details, it is quite clear that the project manager has a very important role to play in a company. In recent years, it has also been observed that there is a rise in opportunities for project managers.
According to Google, there are over 400,000 vacancies for project managers with the average annual package for entry-level project managers being $59,000. This google certification course can really be helpful for students to find a really well-paying job in a project management profile.
This is an entry-level project management course that will guide the students about the very fundamentals of the skill. Some of the key concepts that the students will get to learn through this course are:
Estimating Time and Budgets
Running Effective Meetings and Managing Stakeholders
Identifying and Managing Risks
Applying Agile and Scrum Frameworks
Leadership Skills and Navigating Team Dynamics
Like the other courses mentioned, this Google certification course doesn't require any prior experience related to project management. The course is made available to the students through Coursera which organizes the entire course online. It is a self-paced course that means the students can complete the course according to their own pace.
Like it has already been mentioned that there are plenty of opportunities in the project management domain. Some of the job roles that the students may look forward to being:
Project Manager
Project Co-ordinator
Project Assistant
Operations Manager
Operations Associate
Program Manager
Scrum Master
Project Associate
Project Analyst
Project Administrator
Technical Project Manager
These are some of the job roles, that aspiring project managers can look forward to. This course will provide enough information for the students to understand the basics of project management and kickstart their careers. The curriculum of this Google certification course includes:
Foundations of Project Management
Project Initiation: Starting a Successful Project
Project Planning: Putting it all together
Project Execution: Running the project
Agile Project Management
Capstone: Applying Project Management in Real World
Students and amateurs willing to have a career in project management can definitely try taking this course. It can be really helpful for them in understanding the basics of the skill.
UX designing is one of the very crucial aspects when it comes to online businesses. Whether it is an app, a website, software, or a mere blog, everything needs an interface. The interface is basically the design or arrangement of the page with which the users interact.
Starting from layout, placement of elements and even the color used is a part of UX designing. So, from the mentioned details, it is very clear that UX designing is a very important practice for the online appearance of any app or website. People interact more with the software if the interface is convincing enough.
You must have come across many sites that have a very clumsy and disorganized arrangement of texts, pictures, clickable buttons, and more. So, the need for UX designers is real and their role in the development of any app or website is very crucial.
This Google certification course for UX design is basically for beginners who are just starting out with learning UX design. It really doesn't matter if you have little or absolutely no knowledge about UX design, this course will guide you through the very basics of UX designing.
Some of the key learnings that students can expect from this course are:
Developing personas, user stories, and user journey maps
Conducting usability studies
Creating wireframes and prototypes
Testing and iterating on designs
Building a professional portfolio
The course is entirely online and self-paced, which means the students can learn at their own pace. This Google certification course for UX design doesn't require the students to have any prior experience handling UX designing work.
So, absolute beginners will find this course absolutely helpful for learning the core vitals of UX design. The best part is, the course provides the students with very useful information around UX designing for the students to start their career as UX designers.
Not just for UX designers, but there are plenty of job roles and opportunities for those with UX designing skills:
Visual Designer
Product Designer
Interaction Designer
UI Designer
User Experience (UX) Designer
The course is very smartly framed to help beginners understand UX design from scratch. The curriculum of the course includes the following pointers:
Foundations of User Experience (UX) Design
Start the UX Design Process: Empathize, Define, and Ideate
Build Wireframes and Low-Fidelity Prototypes
Conduct UX Research and Test Early Concepts
Create High-Fidelity Designs and Prototypes in Figma
Responsive Web Design in Adobe XD
Design for Social Good and Prepare for Jobs
The curriculum clearly shows the concepts that will be covered and mastering these concepts might as well land you your first job as a UX designer. Some of the biggest companies that are actively into web development and app development are rigorously hiring so many UX designers.
So, these skills and the Google certification course can actually get you a handsome salaried job as a UX designer.
Android is one of the most used operating systems in the world and millions of apps and software are built on this operating system. The android market is growing at a faster pace than the ios also and therefore more software companies that develop games and apps are now focused on developing android app development.
In simple words, the tasks involved in android development include developing apps, testing, and debugging the android applications. Like the other mentioned courses this too is a 100% remote course. That means you can avail the complete course online.
One doesn't need to have any prior experience in Android development in order to learn this course, rather this google certification course is meant for pure beginners. Those with little or zero knowledge about android development can still take this course and learn.
Some of the key learnings that students can expect from the course include:
Kotlin Basics
Layouts
Navigation
Connecting to the internet
As mentioned, the Android OS is becoming increasingly popular, the need for android developers has also increased. According to Google, there are over 35,000+ vacancies with $81,000+ being the average annual salary package.
Over 82% of the students who completed this course reported a career impact within a matter of 6 months. The course curriculum is also designed very smartly to help students learn android development from scratch.
So, this was a little from a lot about the Google certification course for Android development.
FAQs
Q. What is Google Certification Course?
Ans- These are skill-based certification courses offered by Google helping students and professionals to upskill themselves to be able to find employment opportunities according to the skills they learned. The courses provide a very comprehensive detailed insight into each of those skills.
Q. Are these online?
Ans- These courses are 100% remote which means the students can access the course entirely online. The course content is in the form of video lectures and the students can learn at their own pace.
Q. What are the Eligibility Criteria for taking this course?
Ans- Except for your interest and curiosity, there is no such requirement for students to be able to take this course and learn a skill. So, pure beginners and freshers might also learn easily from these courses.
Conclusion
The courses provide very detailed guidance into the skills this enabling you to be suitable for job opportunities. If one master the basics and works on their skills, they might as well land their dream internship or even job. Google certification courses are quite an important resource that every beginner, amateur, student, and even professional shall be aware of.
As mentioned, many people have reported career impact right after completion of the Google certification course, and thus anyone with a relevant interest can try and learn any of the mentioned skills.